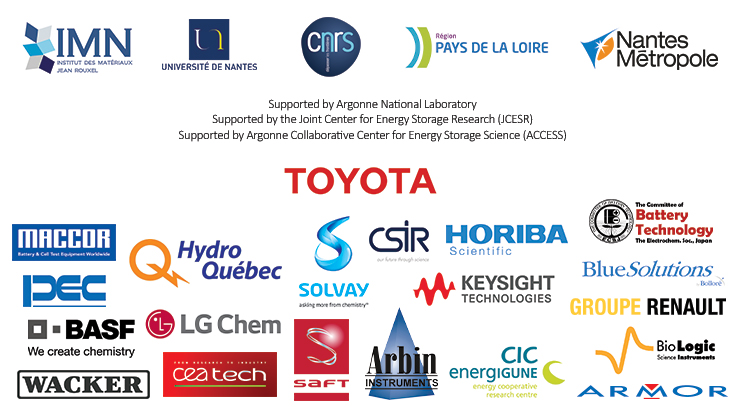 Recent successful IBA Meetings were held in Hawaii (2010), Cape Town (2011), Hawaii (2012), Barcelona (2013), Brisbane (2014), and Hawaii (2015). The series of IBA Meetings has a great tradition and unique style of blending fundamental research with practical applications in the field of advanced battery materials and systems. Leading scientists come from around the world to share their recent progress and stimulate discussions on interdisciplinary battery research and development.
The IBA 2016 Meeting will be held from March 20 to 25 in Nantes, France, at La Cité - Nantes Events Center (http://www.lacite-nantes.com/uk/index.html), 5 rue de Valmy, 44041 Nantes, France. The organizing committee invites you to present your recent work in this coming event.

La Cité - Nantes Events Center, 5 rue de Valmy, 44041 Nantes, France.

In this meeting will be highlighted the crucial thematic of interfaces and inter-phases, including metal (Li, Na, Mg) interfaces. Of course, communications on all present issues of batteries are welcome and will include:
New electrode and electrolyte materials, new electrode designs, new concepts and new chemistries for improved energy, safety and eco compatibility.
In-situ and operando characterization of transport and degradation mechanisms of materials, interfaces and devices.
Hierarchical multiscale experiments and modeling.
System design for micro-devices, electronic devices, electrified transportation as well as stationary applications for renewable energies.
A special session will be dedicated to Dr. Michel Armand to honor his outstanding and inspiring contribution to the field.
The program features plenary conferences, keynote lectures and invited talks, all corresponding speakers being invited by the International Advisory Committee. A call for abstracts will be sent in order to get poster presentations. For efficient discussions around posters, poster sessions will be scheduled every day and all posters will stay displayed all week long.
IBA 2016 will gather about 200 world-class researchers, technologists and industrial participants, representing the best laboratories in the field, who will communicate on their latest advances and breakthroughs. It is a great opportunity to enjoy successful exchanges, to set up new collaborative projects and for students to make contacts for further job opportunities.
We hope the attractive scientific program will let you some time to enjoy Nantes city and its area.

Passage Pommeraye